Organic Farming Certification
A product is certified organic only if it is an agricultural product and/or foods from organic farming. The European legislation is based on a set of rules:
Processed products must be composed of more than 95% organic ingredients.
The ban on using synthetic chemicals (pesticides, fertilisers, weedkillers…)
The ban on the cultivation or use of GMOs
Respect for animal welfare
Please, note: The Euro-Leaf logo is the European logo for organic certification. The AB logo, is the French logo. It is optional.
Cosmos Standard by Ecocert
The COSMOS standard has been developed at the international level in order to define common requirements for the manufacturing of organic and natural cosmetics.
Its main objectives are the following:
To simplify rules (framework)
To define ingredients from organic productions as being "Cosmos certified" and ingredients of natural origin (not from organic production) as being "Cosmos approved".
Responsible use of natural resources and respect for the environment.
The ingredients which benefit from the Cosmos standard are either "Cosmos certified" -cosmetic ingredients from organic farming- or "Cosmos approved"-ingredients from non-organic farming.
Actibio Cosmetics has been COSMOS certified since February 2017.
Our aim is to support our customers and simplify their own certification process.
Our "COSMOS" range is being developed in line with our customers' needs and requirements.
Since March 2020, Ecocert has been the certifying body appointed to monitor compliance with the COSMOS standard.
Certified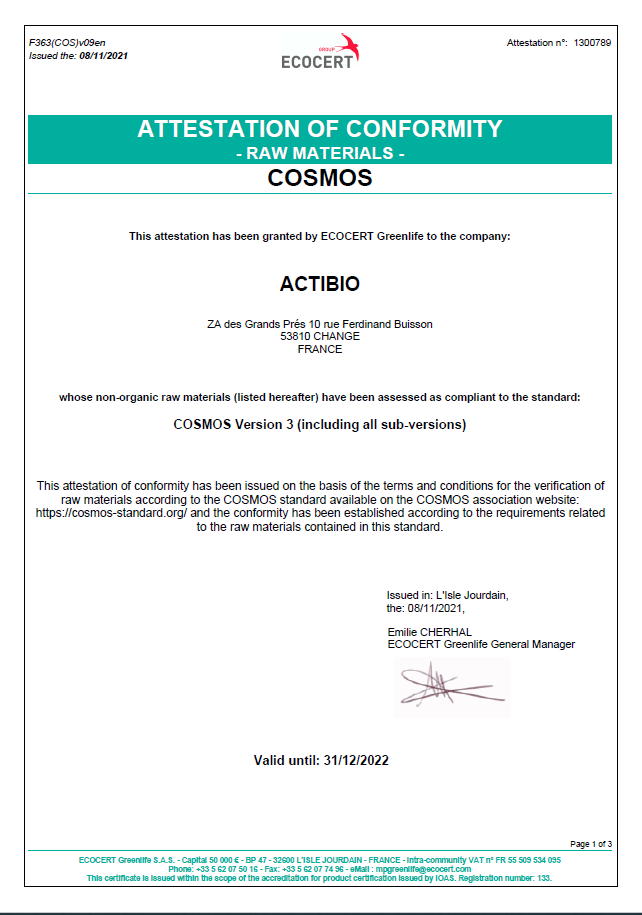 Approved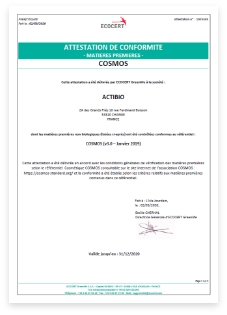 Fair Trade Certifications: Fair for life & Fairtrade by Flocert
These certifications guarantee ethical, fair and respectful partnerships.
We are committed to working with producers and processors on a contractual basis in order to create lasting partnerships.
The price paid is determined by:
A fair price,
A share allocated to the development fund which helps finance collective projects,
An annual volume commitment.
Should you need further information about these two certifications, click on the following links: https://www.fairforlife.org & https://info.fairtrade.net/fr.
Certification RSPO – Roundtable on sustainables palm oil

RSPO is a certification that allows to assert that the palm oil produced meets the RSPO requirements, both in terms of CSR and sustainable development. The volumes are traceable throughout the supply chain.
The criteria focus on deforestation, conservation of biodiversity and respect for the workers' living conditions on plantations.
Identifiant Citeo
Within the framework of the EPR (extended producer responsibility) and the compliance with the Agec law, we have the following identifier: FR254269_01HJIQ, certified by Citeo.